Continental Outgames Gets Unlikely Host
July 24, 2006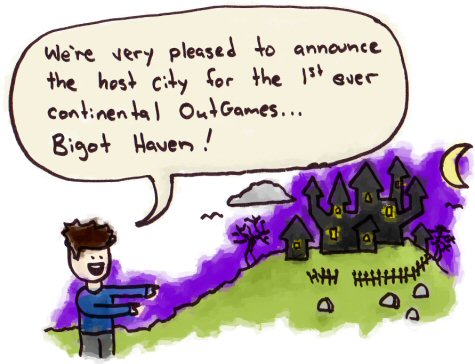 With the 1st World Outgames in Montréal set to be an amazing success, it's time for the spinoffs! In fact, the 1st Contentental Outgames for North America are already set to be held in April next year! And the host city is…
Calgary, Alberta.
No, really. You know, the same province where bans on same-sex marriage are still being mulled over, where the provincial government nearly passed legislation making it legal for teachers to refuse to acknowledge that same-sex marriage exists, where the Premier promises to make it legal for marriage comissioners to refuse to file the provincial paperwork for gay couples, and the same city where Pride parade protesters caused a huge scene out of fear of contracting AIDS… That Calgary.
Of course, the game planners are aware of Calgary's, uh, less-than-friendly reputation, but Executive Director Brad Bostock, thinks this won't be a problem.
There are perceptions that Calgary may not be the most hospitable city to host this, but we've hosted the Western Cup. Next year will be our 25th anniversary.
I see… But, really, I think the games should go off without a hitch. After all, the best way to educate an irrationally anti-gay mind is to show the benefits of diversi—oh, who am I kidding; these wingnuts are going to protest day and night.