Zimbabwe's New Laws
July 26, 2006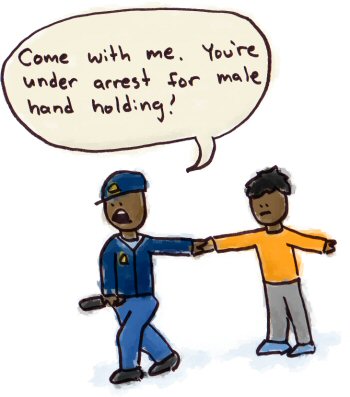 Zimbabwe's latest anti-gay law has gone into effect this month, and the "crime" to consequence ratio is amazing.
What used to be an unjust anti gay sex law has been expanded to ban all physical contact between males that could be deemed "indecent" by, well, pretty much anyone. This has already been interpreted to include kissing, hugging, and even hand holding!
The new law was enacted by Zimbabwe's president, Robert Mugabe, who once famously called homosexuals "worse than pigs and dogs." Nice guy.
But, to all the Zimbabwean gays out there, don't fret! Try my helpful suggestions:
Hold hands through a hollow basket with a blanket on top so it looks like you're just helping each other carry a heavy item.
Swing your hands with exaggerated movements and "accidentally" brush your hands together every now and then.
Pretend to have an injury affecting mobility and lean on your boyfriend for physical support.
Or go through the often painful, but always worthwhile process of demanding a government that respects human rights.
Any of the above should do, really…