Anti-Gay Cape Breton Prof Suspended
July 28, 2006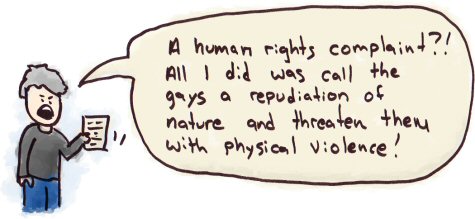 Well, I guess even studying history doesn't mean you won't repeat it!
An irrationally anti-gay history prof at Cape Breton University has been suspended for two weeks after posting material inciting hatred and violence toward gays. A separate human rights complaint has also been filed for his old-timey hate.
David Mullen, whom I shall call Davey (we can be chummy like that, can't we?), received a polite letter from Shane Wallis at the university's Sexual Diversity Centre requesting to please "separate your [anti-gay] views from your academic website," in accordance with the university's discrimination and harassment policy. While the request was civil and respectful, Davey responded, well… somewhat angrily:
This is my web site and I do as I please with it.
I do not subscribe to the propaganda of the homosex movement.
I am not afraid of people who engage in sexually deviant behaviour.
I am critical of their disastrous choices. [… blah, blah, etc, etc.]
Homosex is a repudiation of nature and the apotheosis of unbridled desire.

Request denied.
Davey then attached a picture of himself wielding a semi-automatic rifle above the phrase "nobody attacks me with impunity," and changed Mr. Wallis' signature to read "Sexual Perversity Centre Coordinator." A clever wordsmith, that one!
Hey, I wonder if when Davey's views are inevitably written into the history books as being as wrong, wrong, wrong, he'll still have to teach it? That'd be neat!