Bishop Fred Henry: Wafer Nazi
August 4, 2006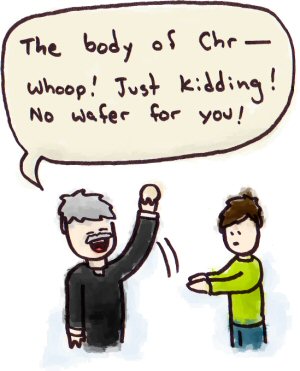 Another hysterically anti-gay nut from Calgary? Get out!
Fred Henry, a bishop from Calgary, wrote a pastoral letter (not quite as lovely as that sounds, trust me) that equated gays to prostitutes and pornographers, pressuring the government to do something about it. The wording wasn't exactly subtle either. Well, you be the judge:
Since homosexuality, adultery, prostitution and pornography undermine the foundations of the family, the basis of society, then the state must use its coercive power to proscribe or curtail them in the interests of the common good.
Funny… The government did end up acting in the interests of the common good! You'd think Fred should be happy, but, well… Far be it from him to judge others, but after same-sex marriage became law, he judged all the politicians that voted for equality and refused to give them communion wafers. Oh, then he suggested that Prime Minister Paul Martin, should be excommunicated from the church. Bitter much, Fred?
Although, in fairness, we've all had our moments. I once wouldn't let my best friend play at my house until he gave me back my He-Man action figure back in 1986.
Well, that, folks, was retroactive slap week! Up-to-date stories shall appear starting Monday!