U.K. Still Un-Kool With Gays
August 7, 2006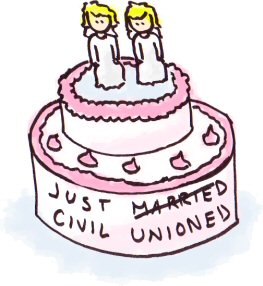 Britain will not recognize Canadian same-sex marriages, a U.K. judge has decided.
Mark Potter (possibly Harry's considerably less favoured half-brother) ruled last week that recognizing same-sex marriage would "fly in the face" of human rights and "fail to recognize physical reality." While this statement may seem entirely contradictory, the judge may have mistakenly thought it was "opposite day," something I'm sure exists in the wizarding world.
Regardless of how the error was made, Sue Wilkinson and Celia Kitzinger are officially considered in a "domestic partnership" instead of the genuine marriage that Canada granted them in 2003. Wilkinson and Kitzinger were, of course, disappointed:
We are deeply disappointed by the judgment, not just for ourselves but for other gay couples and families. It perpetuates discrimination and it sends out the message that lesbian and gay marriages are inferior.

Though we're disappointed, we are sure there will be a day—within our lifetimes—when there will be equality for same-sex marriage. This judgment will not stand the test of time.
Well said. And, hey, all you gotta do is wait for this magical fantasy world craze to run it's course. That's only one more book away, no?