Ted Morton's Bill 208 Is Back
August 28, 2006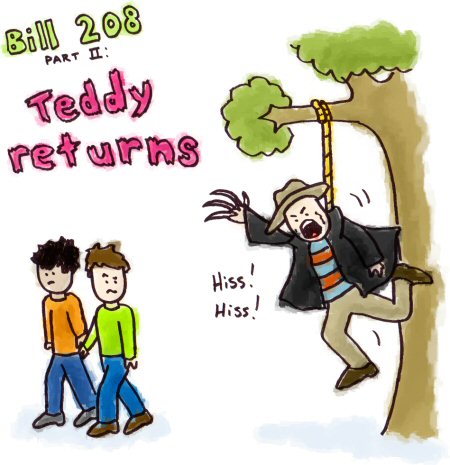 Someone call a nanny! Alberta's hysterical temper-tantrum over same-sex marriage is still going strong, apparently. Ted Morton (MLA and super bigot extraordinaire ) resumed debate on Bill 208 Friday. The bill, which was presumed dead after legislature ended back in spring, was granted a surprise resurrection.
Here's what the bill will do, if passed:
Allow civil marriage commissioners to refuse their public services to gays
Allow teachers to refuse to acknowledge the existence of same-sex marriage in Canada
Force teachers to hand out "parental warnings" if they do choose to acknowledge reality
Remove all punishment for an individual "exercising their beliefs" against gay marriage.
Un-freaking-believable!
Julie Lloyd, a local activist, is terrified.
The effects of this bill, should it become law in Alberta, would be devastating for gays and lesbians.

[Bill 208], if passed, would allow employers to fire gays and let landlords evict gay tenants with impunity because they're "exercising a belief against same-sex marriage."
Of course, the bill is also grossly unconstitutional, and certainly wouldn't survive a court challenge (assuming the obscure notwithstanding clause isn't used—which Alberta has done before to prevent court challenges to a ban on same-sex marriage from 2000-2005). But, really, even if the bill doesn't survive, how much more of this hemorrhaging fit can Teddy produce?
Yeah, that's totally a rhetorical question.