Lobby Group Explodes Over Gay Film Festival
September 6, 2006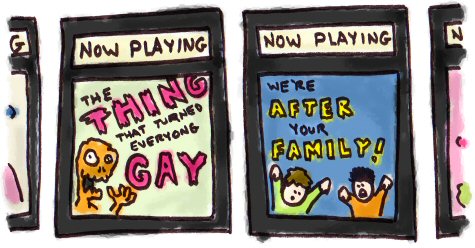 The Vancouver Queer Film Festival, a prominent LGBT arts media event, was met with great success last month, thanks very much to a standard grant from the Department of Canadian Heritage.
Strangely, the success and funding somehow isn't sitting well with the anti-gay lobby group, REAL Women of Canada. Spokeswoman Gwen Landolt (who scoured the film listings to publicize such gems as: "Deconstructing Crack Ho" and "Toilet Sex in Canadian Cinema") had these kind words:
The films [in the festival] are simply degenerate and degrading to humanity. There is no artistry there, the films are used as a political statement against established social mores, a way of showing contempt, of saying "we don't have to be held to normal standards of behaviour."
Wow, I know exactly what you mean. When I was at the festival, instead of watching "Pride and Prejudice: LGBT Struggles for Human Rights" I must've accidentally walked into "Horrifyingly Gratuitous Debauchery" back-to-back with "Look At Me; I'm Going Potty On Your Family's Lawn!" It was so awful; both were being force-fed to unwilling parishioners and impressionable children by drug addicts and activist judges. Why did you fund this film festival, Department of Canadian Heritage? Why?
Ahem… Landolt then attacked the Heritage department for having promoted tolerance in the past.
The Heritage department is filled with problems. The department has got to be examined; it's a disgrace. In the public accounts of 2004-2005, the department issued $112,800 in funding to EGALE [Equality for Gays and Lesbians Everywhere], for the purpose of "furthering participation in Canadian society." Was that really necessary?
Oh; that was a question. Let's see, was the funding for equality organizations really necessary? Well, as long as groups like yours, Gwen, spend every waking minute pressuring our lawmakers to ensure that gays and lesbians are devoid of rights, culture, and their constitutional freedom as a citizen to make whatever freakin' arts films they want— yes! It is really necessary.
Thankfully, the Department of Canadian Heritage has a good sense of reality. Spokeswoman Dominique Collin, had this to say:
Through their Festival, the [Vancouver Out On Screen Film Society] presents a wide range of culturally diverse media arts and attempts to bring the issues and experiences of the LGBT communities into the mainstream, fostering acceptance and understanding.
Right on. Do you think it's working?