Safe Schools For Gays Unimportant, Apparently
September 15, 2006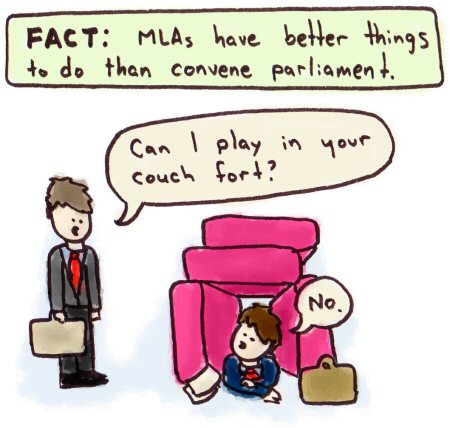 The B.C. provincial government has cancelled the fall legislative session, citing a lack of business to discuss. Premier Gordon Campbell adding that skipping out on parliamentary sessions "is an organized, thoughtful way of proceeding with the public's business."
Of course, that's entirely relative, as there are seven private member's bills waiting to be discussed—including a "Safe Schools" bill designed to protect gay students from harassment and discrimination.
Steve LeBal and James Chamberlain, of the Gay and Lesbian Educators of B.C. (GALE), were understandably upset:
It's incomprehensible to have a government that sits once a year. My main concern is that [the Safe Schools bill] will die and won't be reintroduced. We've been waiting 10 years for this. It's long overdue.
So for all you gay students in B.C. putting up with harassment, rest fully assured! Your government may, eventually, whenever parliament reconvenes—which it will, just not soon—there will, probably, be a discussion of whether or not to further discuss, and possibly vote on—if you're lucky—a bill to protect you!
Pending a lengthy review process and additional senate discussion, of course.