Tories Cut Equality Funding
September 27, 2006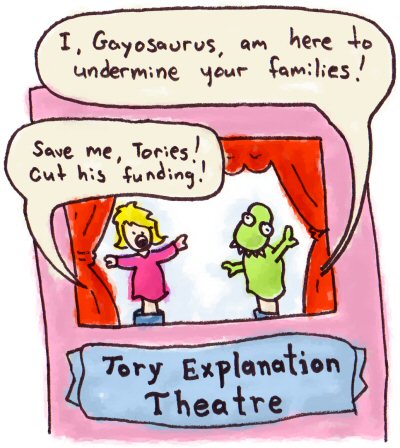 Well, that didn't take long! The Conservative Government announced yesterday that they have cut funding for the gay-friendly Canadian Heritage Department and turfed the gay-friendly Court Challenges Program entirely. (The gay-friendliness is surely just a coincidence, don't you think?)
The Canadian Heritage Fund was—probably coincidentally—attacked by the right wing lobby groups REAL Women of Canada and Focus on the Family Canada earlier this month for supporting the Vancouver Queer Film Festival. Almost certainly coincidentally, that's the same lobby that was bleating about the Court Challenges Program days prior to that.
Speaking of amazing coincidences, The Court Challenges Program has been used repeatedly by gay groups to challenge horribly unconstitutional bans on same-sex marriage—the very thing that the new government is trying to re-introduce. Though, the timing is certainly also an amazingly improbable coincidence.
Anyway, these surely non-ideological budget cuts were made despite an over 13 billion dollar surplus inherited from the former Liberal government. If I didn't know better, I'd say the new government is exercising an unconstitutional opposition to equal rights for gays. But, instead, I'm going to think it's just Coincidence Month in Canada. I'm never told about Coincidence Month.