When Is The Marriage Vote?
September 29, 2006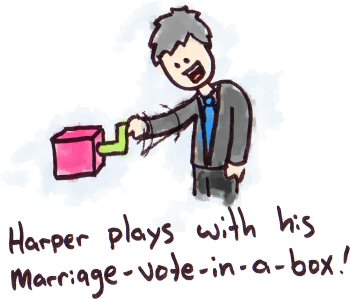 Remember when Stevey promised to hold a free vote on same-sex marriage this autumn? Well, according to the anti-gay lobby, the vote's been moved to winter! (I guess the summer break wasn't long enough for them to convince our MPs that society has been thrust into a chaotic land of terror!)
So, what is the anti-gay lobby doing with all this new time? Well, the Canada Anti-Gay Coalition , err… is forming a last-minute "national marriage caucus." The press release was a little cryptic, but from what I can gather, the caucus' first task is to build a fortified protective wall around every family. Or, at least, every family without gay members. So, for all those into cement stocks, BUY!