Counseling Centre Attacked For Gay Meetings
October 11, 2006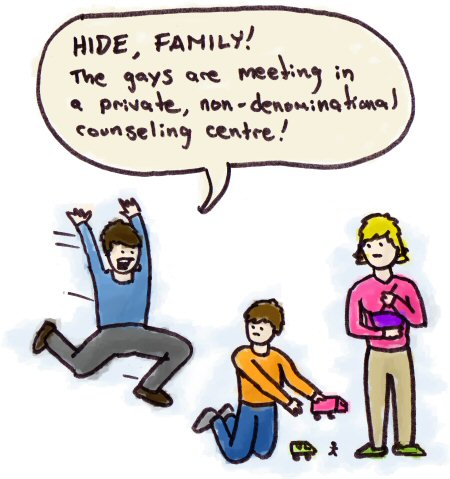 A counseling centre providing meeting space for gay rights organisations? What is the world coming to?!
The obsessively anti-gay lobby group Defend Traditional Marriage And Family publicly denounced the Catholic Family Counseling Centre, which has been providing space to the equal rights organisation Tri-Pride for over three years, for "going against the teachings of the church."
A spokeswoman for the CFCC responded with shock, reminding the anti-gay lobby that the counseling centre is a non-denominational , inclusive facility, and that the word "Catholic" appears in the agency's name simply to honour the priest that founded it. She then re-assured Tri-Pride that they will continue to be welcomed at the centre's facilities.
Of course the anti-gay group started furiously backpedalling, ranting about some sort of semantic responsibility with the word "Catholic." And why not? I mean, ignore for a moment that gay people can be devout Catholics too. Couldn't you understand the confusion—even though the CFCC's website mentions that it is a non-denominational agency in capitalized, boldfaced letters as its first sentence? After all, "non-denominational" is a very big word, and flipping through a dictionary can be… Well, you know how those "pro-family" types are when it comes to depth of research.