Cardston Crazies Still At It
October 18, 2006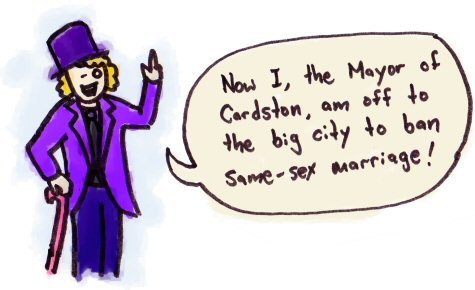 Well, after all the recent federal news, I think it's about time I gave some attention to small town Alberta!
Remember Cardston (population: 3,500)? It's the little town with big aspirations to ban same-sex marriage. Well, after the Municipality of Crowsnest Pass (population: 6000) refused to hear them out last April, they haven't given up! In fact, they've taken their plea all the way to the capital city of Edmonton (population: 1,016,000)! Such a big trip!
The Alberta Urban Municipalities Association met in Edmonton earlier this month for their annual convention, and Cardston was more than thrilled to propose their ban in front of all the mayors in Alberta! Though, unfortunately for Cardston, Edmonton Councilor and AUMA Chairman Ed Gibbons just didn't seem to want to discuss the proposal:
This is not the type of issue municipalities typically deal with, nor should they. Why are we talking about it at the convention?
Councilmen were also quick to point out that municipalities don't have the authority to ban same-sex marriage, which is entirely federal jurisdiction.
Poor Cardston… You tried so hard. Oh well, I suppose there's always next year's conference!