Heather Stilwell Makes A Suggestion
October 23, 2006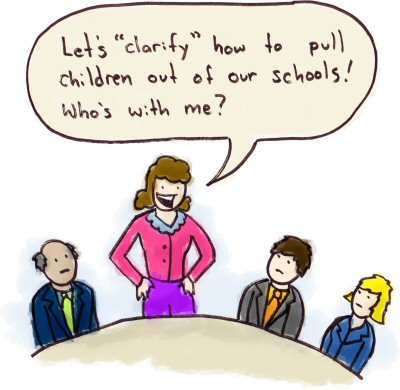 Hmm… I wonder what our favourite Surrey school board trustee, Heather Stilwell, is up to? The last time we checked up on her, after all, she was announcing that a gay-friendly school curriculum would directly cause student absences and a "loss of confidence in the community."
Well, now it appears she's grudgingly accepted that diversity lessons are coming. Good stuff! Although, it also seems she has a new goal: to protect like-minded parents from the terrifying horrors of having their child discuss gay role models in a positive light.
During last week's school board meeting, Stilwell motioned that the board demand the government "clarify" the Alternative Delivery Policy with respect to gay-friendly class discussions. The policy states the conditions under which parents can withdraw their children from the curriculum and—much to Silwell's chagrin—not liking the gays isn't specifically listed. That, she thinks, means it's all up in the air, requiring clarification.
No one seconded her motion.
Gee, that's a bum deal, Heather. I totally understand where you're coming from, though. Heck, I'm in a similar situation myself! For some time, I've wanted to graft Silly Stringâ"¢ dispensers onto the prime minister's fingertips. That way, whenever he shakes his children's hands goodnight, they'd be delighted with happy bursts of rainbow colour! But the laws don't specifically state if I can sedate the prime minister for the purposes of Silly Stringification. That should be clarified. Anyone second this? Anyone?