Something On Ted Haggard
November 6, 2006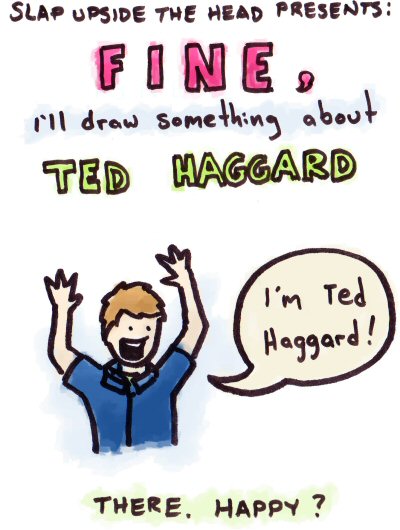 Yes, yes; I know. This has been reported in much greater detail on about 500 cagillion websites, but sometimes something happens that's so bloody huge it affects my ability—in Canada —to find any other wacky bigotry-related news. So, here goes. By force.
Let me get this not-so-straight-after-all…
Ted Haggard, massively influential evangelical leader, detests gays, but somehow regularly hires a gay sex worker for private "massages." Oh, and he also buys meth from his gay prostitute, but only because he likes to throw it away. And now he has resigned… You know, for not having gay sex with an escort and throwing away drugs.
Now, not to be terribly presumptuous, but I'd say this is another spectacular failure for the ol' pray away the gay strategy that Teddy's always been preaching. So, bets? Will he now suffer the humiliation of his hypocrisies and vanish for good, or do some searching, heal, and, with time, become a powerful ally for equality?
Ah, I'll just book you down as "the former."