Lobby Group Endorses Homophobic School Trustees
November 10, 2006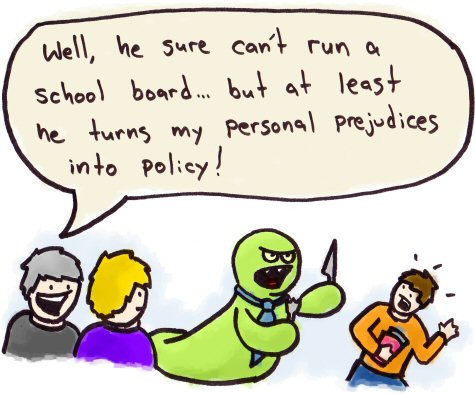 Remember the obsessively anti-gay lobby group Defend Traditional Marriage and Family? (They're the ones who publicly demanded that a non-religious counseling centre stop providing meeting space to a gay rights group.) Well, now they're pestering candidates for their local public school board with homophobic questionnaires!
Kitchener candidate, Rob McNeil, said he was baffled by the "irrelevant and offensive" survey:
There was no question of value on it. It just blew my mind because there are so many other important issues going on. There's school safety, there's the balanced school day. This is a questionnaire based only on how I stand on the gay rights issue—which, to me, has nothing to do with "can you balance a set of books at the school board?"
Well, that's the thing with the "pro-family" lobby, isn't it? They're one-issue folks. You could be a pointy, baby-eating vampire robot and still win their endorsement, so long as you're anti-gay. Heck, they're so one-issue that they've got more gay-related material on their website than I do!
Incidentally, only 1 of the 6 candidates ended up receiving an endorsement. According to the group's newsletter, that candidate didn't agree with many of their views on gays—but he was the only to actually return the survey.