Anti-Gay Group Lies About Candidate Support
November 13, 2006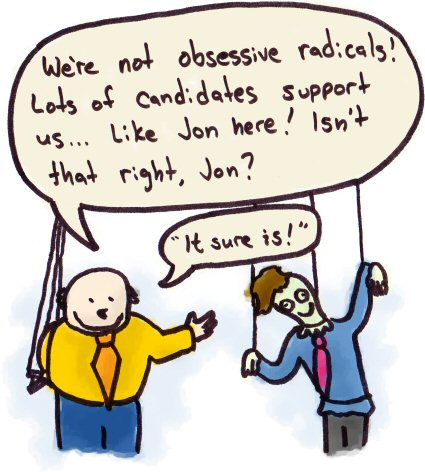 Well, after tallying the results of their news-making homophobic questionnaires, the anti-gay lobby group, Defend Traditional Marriage and Family, have finally announced their endorsements for the upcoming civic elections in Kitchener, Ontario! How splendid!
Every endorsement is, of course, a shining testament to that candidate's extraordinary anti-gayness. Well… Almost every endorsement.
"I was shocked," said Jon Huemiller, after reading about the group's endorsement of him for mayor in a local newspaper. "I wholeheartedly support gay marriage; I am not a closet bigot." Mr. Huemiller, you see, not only supports equality, but didn't even respond to the lobby group's questionnaire, noting that it was still sealed on his desk. "As soon as I saw Defend Traditional Marriage and Family, I thought 'gay bashing,'" he said.
A spokesperson for the lobby group backpeddled furiously when questioned, saying that—unlike the other candidates—Mr. Huemiller's endorsement was actually decided on from a telephone interview, not from the results of their questionnaire. Mr. Huemiller confirmed that the group did call one day, but denies that an interview took place. "[They] did all the talking. [They were] trying to persuade me to support their coalition."
Defend Traditional Marriage and Family has agreed to withdraw the endorsement, though mentioning it "smelled a little undemocratic" to do so. (Uh, OK…)
But hey, that's the kind of stuff to expect from a group that endorses virulently anti-gay candidates who, even if elected, are utterly incapable of doing anything about same-sex marriage in Canada whatsoever.
Waste that time, sister!