Tory Wingnut Found Working For Liberal Campaign
November 15, 2006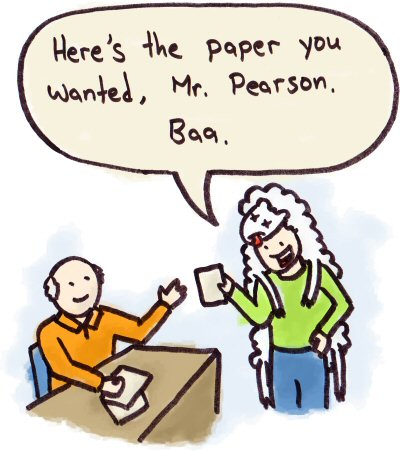 If anyone's missing their sheepskin rug in London, Ontario, I think we have a new lead! Dave Burghardt, a Liberal campaign volunteer, was dismissed from his post yesterday after news broke about his, uh, interesting blog. Dave was originally hired as the communication's director for Liberal MP candidate Glen Pearson.
Now, Dave's blog seems to have mysteriously vanished from the Inter-web, but luckily Google's cache is capable of seeing through time. That means the blog's not really gone; and, let me tell you, it' something to behold! Here are just a few gems: (Say, why don't you grab some popcorn? I'll wait.)
On Belinda Stronach leaving the Tories: "all of this demonstrates one more reason why women shouldn't be allowed to run for office, much less vote."
After same-sex marriage becoming law: "the oligarchy of the Supreme Court will strike [religious freedom] down and classify your Bible as Hate Literature round about Thanksgiving Day 2006. Heard it here first!"
His description of same-sex marriage itself: "the God given right to making a life long commitment to anal sex."
He gives a hearty "Bravo" to the following comment on the gays: "try interfering with [their] bathhouse sex habits, then listen to the sonic cries of 'homophobia' reverberate across the land."
And a few posts down: "apparently some people think I am obsessing about same-sex marriage…"
Obsessing? No, no, no! Well… Maybe, OK—yeah: Obsessing. Why, there's even a full-out essay on the evils of gays, which includes this insightful paragraph:
When some scientific evidence suggests a genetic predisposition for homosexual orientation, the case is not significantly different from evidence of predispositions toward other traits—for example, alcoholism or violence.
Fascinating comparison; he's a pip, that one! Well, good luck with your new party affiliation, sir! (Awooooo!)