Anti-Gay Activist Refuses To Pay Human Rights Fine
November 24, 2006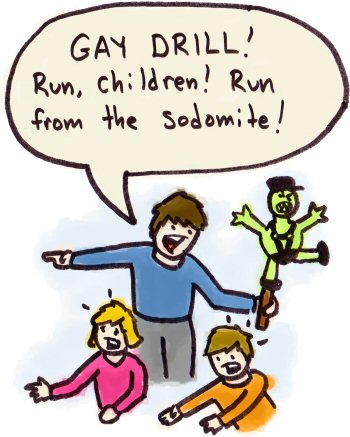 Bill Whatcott, the anti-gay activist who had his nurse's license suspended, has been ordered to pay $17,000 for repeated human rights violations. The kicker? He's refusing to pay.
In an open letter hand-delivered to 3500 households, Whatcott explained his rationale for the civil disobedience, painting himself as a saviour of children—who he says are in immediate danger of being molested by homosexuals. Observe his ever-so-moving penmanship:
It is a fact that a greater percentage of homosexuals molest children than their heterosexual counterparts. Sodomites only consist of between 2 – 3% of the population. Yet they commit of over 33% of the reported sex offences.
Charming. I feel the sympathy already. Gee, Bill, I can't imagine how you were found guilty of hate crimes…
Incidentally, the paper that Whatcott cited for the above "fact" was written by one Dr. Timothy Dailey (Ph.D in religion) and published by the anti-gay lobby group "Family Research Council." It has been thoroughly disproved and runs contrary to every single peer-reviewed study on the subject. Even the suppliers of the statistics that Dr. Tim cited to arrive at his conclusion have decried the work as deceptive manipulation. One, Dr. Nicholas Groth, even demanded that any reference to his work be removed from the offending paper; an extraordinarily rare move in the academic community.
Whatcott knows all this, but hey—can you blame him? I mean, his only other choice is to do something crazy like, I dunno, be big enough to admit that his actions were libelous and wrong and accept the consequences.
Have fun avoiding the law, Billy!