Scarborough MP Makes Up A Bunch Of Anti-Gay Stuff
November 29, 2006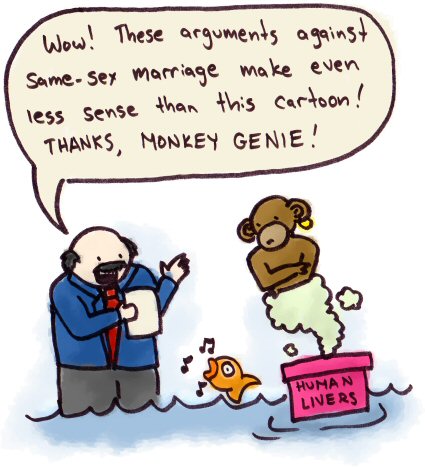 An enormously improbable 94% of Scarborough constituents want to re-open the marriage debate. At least, that's the world according to their MP, John Cannis, who derived these results from the responses to his own uniquely-worded survey.
Last Friday, in the lovely St. John's Greek Orthodox Church, John held a meeting to discuss why same-sex marriage is a horrific, dangerous, all-out nasty, terrible, uh… thing. In addition to showcasing his amazing survey, he announced that "polygamist groups use [same-sex marriage] to pursue their own Charter cases," also adding that the current legislation doesn't address the "issue of same-sex adoption" and that "if a priest or pastor refuses [to solemnize a same-sex marriage], he is not protected."
You know what? That looks like fun! Let me try:
After the speech, John joined the magical forest gnomes as they danced out into the sugar-drop rain with their mushroom umbrellas. After a hearty meal of pinecones, he lead all the woodland creatures in song, rejoicing and dancing along to Crystal Water's Gypsy Woman. "La da dee, la da daa," they giggled.
Meanwhile, back in the land of Scarborough, constituents actively pondered why their MP isn't fighting polygamy instead of same-sex marriage, if that's what he's really worried about. They also decided that adoption probably isn't mentioned in the marriage legislation because it's really a marriage law that deals with marriage rights, not adoption. Later, they scratched their heads heartily at the bizarre notion that priests aren't protected. "Are you freaking kidding me?" they asked rhetorically. "It's stated _ redundantly _ in the preamble to the whole equal marriage law! All the MPs read it! The Supreme Court of Canada was even consulted before the initial debate even began and ruled that clergy is protected by the Charter!"
Then the constituents collapsed into comas and waited for this nonsensical demagoguery to be done with, as I'm prepared to do.
Ah, that was fun. Well, until Friday, folks!