The Disastrous Consequences Of Same-Sex Marriage
December 1, 2006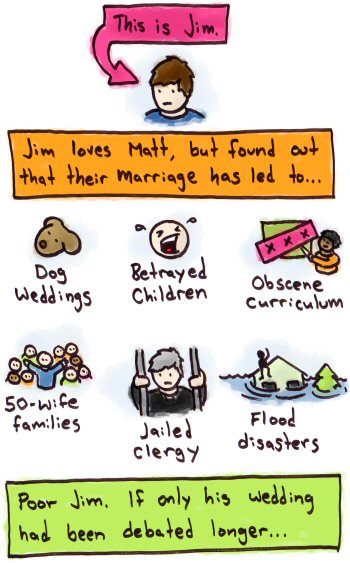 December 6th—that's the day the motion to re-open the same-sex marriage debate will be brought forward. The vote itself can happen right then, the day after, or after the Christmas break. And you know what that means! We're one step closer to the 2006/2007 Marriage Debate Drinking Game!
The Rules:
Drink the specified number of shots whenever the following words are uttered in the House of Commons:
Traditional (1 drink)
Children (1 drink)
Polygamy (2 drinks)
Sanctity (2 drinks)
Social Experiment (3 drinks)
Constituent Survey (3 drinks)
I, Stephen Harper, will protect minority rights and the Charter (Your body-weight in kilograms divided by 3)
Words must be recorded in Hansard to qualify. As an added bonus, the first person to predict the number of drinking times correctly gets to take an additional shot.