Lobby Group Flips Out Over Gay NHL Film
December 4, 2006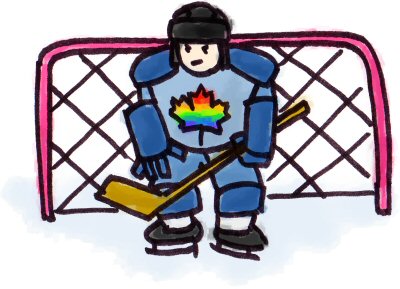 The Toronto Maple Leafs logo will be used in an upcoming film entitled Breakfast with Scot, the NHL announced last week. The film is a comedy about a gay ex-Leaf and his partner (the team's lawyer) whose lives change when they become the guardians of an 11-year-old boy.
To the surprise of none, Brian Rushfeldt—spokesperson for the right-wing special interest group Canadian Family Action Coalition—_nearly blew an eye vessel_:
[The NHL's endorsement] is the epitome of almost evil intent. Perhaps the most disturbing aspect of the entire situation is that an 11-year-old boy is being promoted as a poster child for gay sex.

I think we are definitely going to call upon Canadians and fans to have these people pay some price for this ludicrous business decision that they just made.
So… Brian wants Canadian hockey fans to boycott the NHL—our national pastime—because an independently produced comedy about a gay hockey player has licensed the Leafs logo? Yes, yes, the logic is flawless: The NHL is exploiting an 11-year-old child to promote gay sex. With evil intent.
Well, Canadians—you heard the man! Stop watching hockey.