Tories Motion To Repeal Same-Sex Marriage
December 6, 2006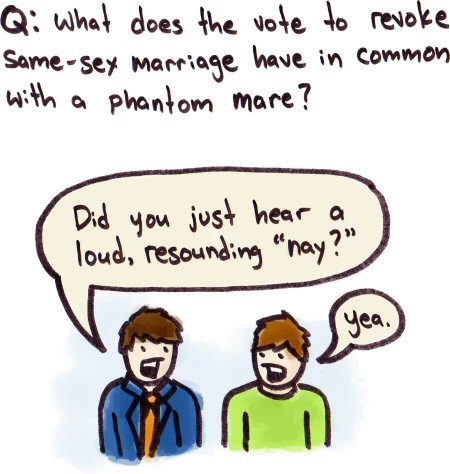 Today's the big day! The day where gay people and anti-gay crazies unite in watching a mind-numbingly boring debate on CPAC. Ah, what fun we'll all have! The debate, of course, is over this motion:
That this house call on government to introduce legislation to restore the traditional definition of marriage without affecting civil unions and while respecting existing same-sex marriages.
An interesting take on the word "respecting," as I would figure declaring one's marriage a mistake and ensuring it never happens again isn't terrifically respectful. But, I digress.
The stakes are high; the effects, annoying. If one side loses, their well-fought rights will be rescinded with precident-setting legislation (then, uh, later re-instated by the courts over gross constitutional violations). If the other side loses… Well, they're not affected in the slightest.
Either way, we'll be treated to some highly entertaining copy from the anti-gay lobby. I guess that's worth a little tax money, no?