Anti-Gay Lobby Keeps On Truckin'
December 11, 2006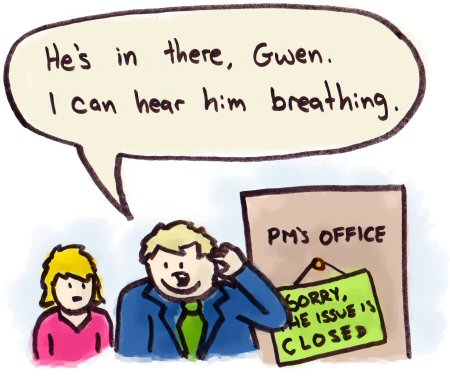 Well, Stephen Harper has officially announced that he considers the same-sex marriage issue settled. Well, finally! But, gee, I wonder what the anti-gay lobby is up to today? Let's go check.
It's the Anti-Gay Lobby Press Release Roundup!
Hey, is that Gwen and the REAL Women of Canada over there? I hear they're doing quite well after they successfully lobbied to scrap the court challenges program. Let's take a peek at what they're releasing to the press, shall we?
Elitist political leaders apparently believe that Canada is still in the twentieth century, where political parties ignored the opinion of the voting public. Arrogant political leaders do not, in fact, know what's best for everyone.
Ah, yes—yes, if anyone should be deciding what's best for everyone, it should not be political leaders. Special interest group leaders know much better! And, although polls indicate that a whopping 76% of Canadians did not want same-sex marriage re-opened, that's totally not representative of the voting public! I mean, what about all those embittered old folks? Weren't they the only ones that voted?
Ah, but why don't we take a peek at what Charles and his wacky Canadian Family Action Coalition are doing?
The people of Canada are not going to let this go, because marriage is too important an institution to just let it evaporate because of the emotions of a few people in Parliament
Interesting stuff! I didn't know that "a few people in parliament" corresponds to a wide-margined majority of exactly 175, but I guess I kinda see what he's saying. That 175 wide-margined majority was totally just uninformed emotion.
Hey, do you think these two groups have issued a joint press release? That would be, like, a dream come true!
Since the Canadian public has been denied a voice on the issue of same-sex marriage, a very persuasive argument can be made for a referendum on the same-sex marriage issue. […] The time for a referendum has now arrived.
Wow; a referendum! Those are hard enough to get when the prime minister actually wants one. You guys just don't give up! Well, good for you! Keep reaching for that star. You know, the one that fizzled out way back 1916, but the light is just reaching you now. It's a pointless exercise, for sure, but keep at it! You'll at least keep your shoulder joints active.