The Anti-Gay Lobby's New Year's Resolution
January 3, 2007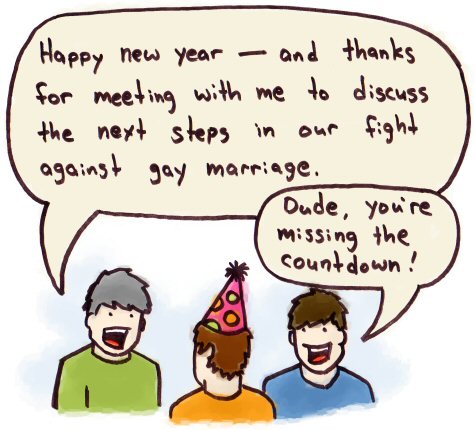 Hey there, kiddos! I'm back from my little website holiday, and let me be the first—well, more likely the several dozen-th person to wish you a happy and prosperous new year!
And, of course, I come into the new year bearing some tremendously fascinating news from the anti-gay lobby! Our good friends at Focus on the Family Canada—in conjunction with the Institute for Canadian Values—in conjunction with the Canada Family Action Coalition—have formed an "informal coalition!"
Wow! Just think what new ideas they'll come up with together! Do you think they have a name yet? If not, I'd like to suggest The Canadian Family Values Institute for Action Coalition Focusing. That, or The 'I Rather Dislike Gays' Club. Whichever communicates their objectives more effectively.
Anyway, their first goal is to lobby the government into ordering a royal commission on marriage and families. At least, that's what they released to the press on New Year's Day. (Sounds like someone had a wild new year's eve!)
While the commission would ostensibly include everything from family tax policy to child care, a spokesperson for the coalition mentioned—_in passing_—that it could also "revive the gay marriage issue in Parliament." But, I'm sure that's really just a sideline for the whole movement. You know, if it comes up.
And if Harper doesn't agree to this commission—the ol' Family Focus Action Institute for Canadian Coalitions is prepared to do some pretty hefty damage. As spokesperson, Joseph Ben-Ami, threatened: "Don't expect me to go out and vote Liberal. But I do have an alternative and that's staying home."
Oooooh!
Well, until Friday, folks!