Principal Bans Gay Support Group
January 15, 2007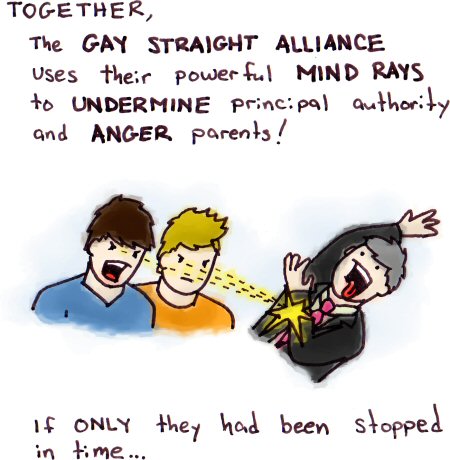 Well, chalk up another victory for the folks who just aren't comfortable with the gays! Ontario's Richmond Hill High School has forbidden a student-run gay support group, the Gay Straight Alliance, from meeting or distributing posters on school property. The principal, Ms. Ivy Chan, cited "entrenched views" as the reason for the ban, saying "I could go ahead and be politically correct and have one, but a gay straight alliance—some people would be for it, but there would be a lot of parents who would oppose it."
Well, it's a good thing that disaster was narrowly avoided! And so eloquently, too. I mean, can you imagine students meeting on school property to discuss such dangerously controversial topics as tolerance? And what if they started spearheading things like safe space initiatives and organize events like the Day of Silence? Kaboom!
Ms. Chan was quick to point out she's an inclusive person, and that a staff-initiated "Diversity Club" (which has yet to be formed) would "encompass everyone." Though, naturally, I'd imagine no emphasis on gayness would be allowed.
Parenthetically, Richmond Hill High School has a Women in Leadership Club, a Jewish Culture Club, and eleven other school-sponsored groups. But banning those would be so last generation! Am I right, folks?