Foreigners Shouldn't Marry Says Right-Wing Group
January 22, 2007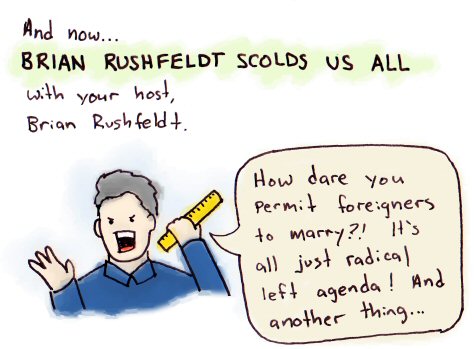 Foreigners should not be allowed to marry in Canada. At least, that's what Brian Rushfeldt of the Canadian Family Action Coalition announced to the press late last week. "To me, it's unconscionable," he stated. "Why is Canada issuing marriage licences to people from another country? We wouldn't issue a business licence to a company that had no intention of staying in the country."
Of course, foreign marriages have been allowed in Canada for decades. Curiously, right-wing special interest groups such as CFAC haven't expressed outrage on the topic until now, baffling everyone as to what could have caused such a shift in strategy. Quite strange, indeed. Hmm… I wonder…
Oh, well. On to some completely unrelated news!
Canada is seeing a gay tourism boost thanks to same-sex marriages! Stats Canada announced last week that over 50% of the same-sex marriage licenses issued in British Columbia in 2003 were to foreign couples! Tourism boards are delighted, as Canada now fosters a booming market for gay weddings and honeymoons, drawing thousands of couples from countries that don't recognize equal marriage rights.
Perhaps even more interestingly, Canada has been getting a local boost as well. While the overall marriage rate continued to decline in 2003, the only provinces to buck that trend were the ones that recognized same-sex marriages, effectively revitalizing the institution.
Fascinating stuff!
Hmm… Do you think there's between CFAC's consuming prejudice against gays and their recent denouncement of foreign marriages? … Nah. I'm sure Brian has some very persuasive arguments against economic boosts and increased foreign interest.
Well, until Wednesday, folks!