Union To Teachers: You Gay?
January 24, 2007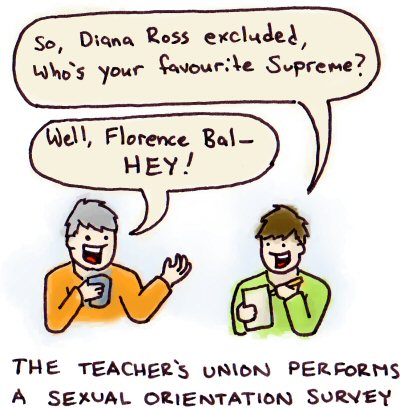 Less than one year after the Nova Scotia Teacher's Union scolded the Halifax Regional School Board for asking teachers if they're gay, the union is doing the exact same thing.
Now, before you all exclaim something like "Gee whiz, talk about the pot calling the kettle tacky and unfit to grace any self-respecting gay man's kitchen!" this survey is different. As union president, Mary-Lou Donnelly, put it:
[The survey is] more to gather information on perceptions, on resources that are available in the schools, on what we can identify in our schools that help our educators or our students or that are lacking in our schools. It's not about identification of individuals at all.
Well, I gotta admit, this is a far better approach than the Halifax School Board's mandatory and personally-identifiable survey. That survey was an ill-advised attempt at appearing concerned for gay staff after being fined for an appalling, gay-related human rights violation. But, still, after that fiasco, what kind of responses are they expecting, precisely? "Yeah, I can be fired based on my sexual orientation and wrongfully investigated for child molestation, but hey—the coffee here is not too shabby!"