Principal Caves; Students Get Gay Club!
January 29, 2007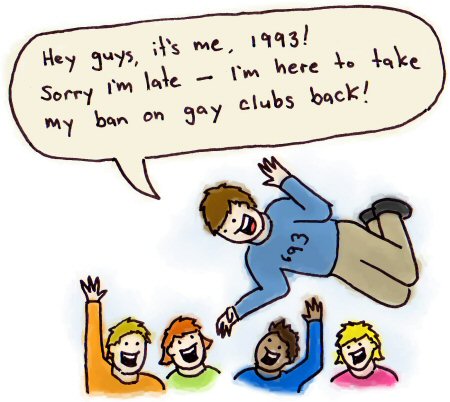 Richmond Hill High School will be getting a Gay Straight Alliance after all! That, according to a great little email I received from Maya, one of the students who was fighting for the support group's formation:
Well, we had a PTA meeting, some more news coverage, and then the administration gave in. We have a club!
Congratulations, guys!
The principal, Dr. Ivy Chan, had previously forbid the group from operating or distributing posters on school property, citing "entrenched views" for the ban. According to Maya, Dr. Chan attributed her change of heart to a combination of media attention and her desire to keep a good relationship with her students. Aw, what a sweet gal, that one!
Incidentally, my old high school never had a GSA. But, then again, it was a Catholic school. If they had allowed such a group, meetings would have been scheduled in the nitre-encrusted basement, where drops of holy water fall from a latin-enscribed ceiling to purify the souls of the gay. You know, or something…
OK, fine: I wish I had been brave enough to start one. Congratulations again, Richmond Hill!