Gay Sperm Donor Ban Upheld
January 31, 2007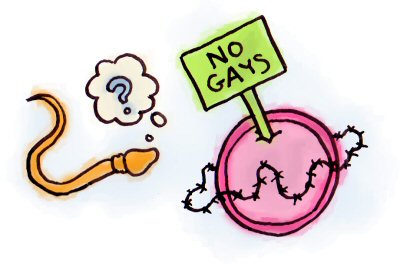 Gay men are not allowed to donate sperm, and that's OK. Well, at least that's what the Ontario Court of Appeal ruled this month after a woman was denied artificial insemination from a trusted gay friend.
The mother of one, known only as "Susan Doe," had successfully tried self insemination with the same donor years earlier, but the "second batch" (so to speak) didn't take, forcing her to seek clinical assistance. Much to her surprise, the clinic refused to process her friend's sperm, citing a 1977 law forbidding gay men from donating. Nutty!
Anyway, perhaps the most interesting aspect of this whole story is that the no gays law does not apply to donors who have had sex with the recipient before. So, while getting out the ol' turkey baster won't exactly exempt you from the law, trying, uh, something different first just might.
So, to the anonymous gay donor: Don't fret! Hope is not lost! Just, uh, how far are you willing to go to help your friend, exactly? I mean, a straight friend would totally try gay sex to help you in a similar situation, right?
In the meantime, Susan Doe says she's taking this to the Supreme Court.