UN Rejects Canadian Gays
February 5, 2007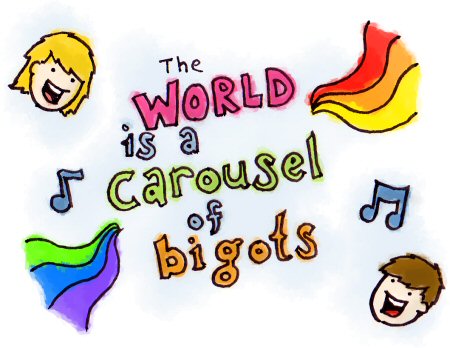 Today, on Slap Upside The Head's The Wonderful World of Bigotry, we bring news of the UN's decision to grant observer status to the Coalition gaie et lesbienne du Québec (CGLQ)!
By an 8 to 6 vote, the result is: nay.
That's right folks, UN representatives for Egypt, Guinea, Pakistan, Qatar, Sudan, Burundi, China and Russia have decided that the rest of the world doesn't want to hear out gay Canadians. While no reason was revealed for the nay votes, Yvan Lapointe, spokesperson for CGLQ had some insight:
They said they lost our file. They claimed they did not receive our e-mails. It was only after the Canadian mission got involved that they started to find things.
Yvan, who was understandably disappointed by the vote, was also concerned by the attitudes toward gays in other nations: "The delegate from Egypt told me they don't have a gay problem in his country because there are no gays there." Egypt, notably, has come under fire by Amnesty International for detaining suspected gay men.
As for CGLQ, I guess there's still the backup plan: Found the nation of Gaybonia.