Ottawa Illegally Pulls Gay Newspaper Distribution
March 14, 2007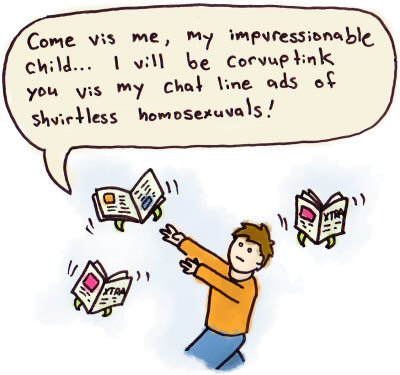 Won't someone please think of the children!?
An Ottawa city councilor is out to ban Capital Xtra, a weekly gay community newspaper, from being distributed in public after a father complained that his son saw an ad for a gay chat line at a local community centre. An ad! How awful!
The paper (which has already been the victim of mass-theft and defacement) was immediately pulled from the centre's display case, and now the city is mulling over bylaws to prevent its distribution elsewhere. Greg Evans, the father, is encouraged by the city's actions, but was pretty shaken up: "I sat there looking back and forth at the pictures and words at the kids' basketball practice, and I thought, 'this is wrong!'"
Gareth Kirkby, the editor of Capital Xtra, is furious:
Capital Xtra is not an adult publication. It is a community newspaper. The municipal government has no business restricting the content of community newspapers.

We at Capital Xtra are tired of being labeled obscene, or adult material, or even pornography. […] It's time city hall acknowledged that queer individuals, couples and families live throughout the city, use the full range of city services, and have the same rights to access their community newspaper of choice as is enjoyed by straight families.
Rusell Zinn, a lawyer for for the paper added that there are serious legal issues with the city's actions, saying the paper's removal "is not only illegal, but highly offensive to the city's gay and lesbian community."
As for the shattered family: There's no word yet on how gay Greg's son turned after seeing the ads, but—just to play it safe—he'll probably subscribe to the Ottawa SUN, where his children can view ads for straight chat line, dating, and escort services.