Ban On Gay Blood Donors To Be Reviewed
March 16, 2007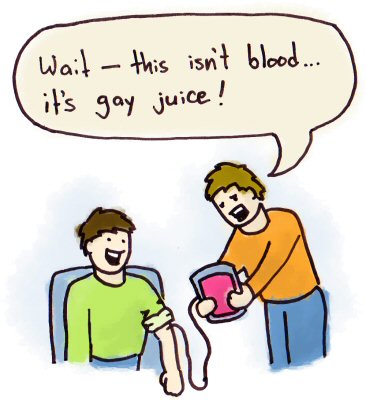 Since 1983, gay men have been permanently banned from donating blood in Canada. Now Canadian Blood Services has finally promised to review the policy this April.
To the surprise of… maybe severe amnesia patients, opponents to the review have already begun preparing arguments to support the ban. Why, you ask? Well, look no further than members of the wacky anti-gay lobby! Jim Enos of Hamilton's Family Action Council, in a phenomenal leap of logic, suggested that since CBS can bar gay blood donors, the Hamilton-Wentworth District School Board should turf anti-discrimination and bullying policies for gay students.
Of course, opponents of the review say they're simply following statistical data about HIV infection rates in gay men, and aren't being homophobic in the least. (Chortle!)
Personally, I think it's about freakin' time CBS reviewed the policy. Deferring donors based on safe-sex practices instead of sexual orientation would not only increase the safety of the blood supply, but help smack the GRIDS out of public consciousness. While the gay community has been particularly affected by HIV and AIDS, Canada's fastest growing HIV demographic is young heterosexual women, which already forms over a quarter of the HIV infections in the country.
In the meantime, gay men: No blood donor cookies for you!