Beware of Elton John's Gayness
March 19, 2007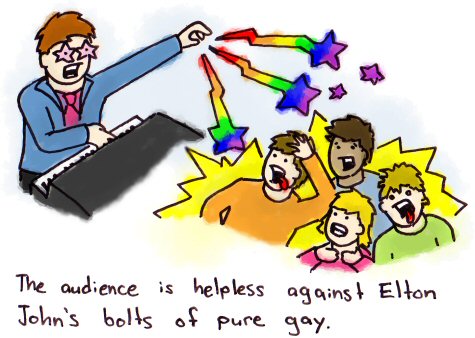 Archdeacon Philip Isaac has issued a dire warning for people considering going to the the Plymouth Jazz Festival in the Caribbean island of Tobago: A scheduled performance by Elton John might turn you gay!
"The artist is one of God's children and while his lifestyle is questionable he needs to be ministered to," said Isaac. "His visit to the island can open the country to be tempted towards pursuing his lifestyle."
Festival organizers say the concert will go ahead as planned. What guts! All this, despite the risk of having the entire island turned into a flying nation of gayness, which tours the world on rainbow sails, bringing gay bars to the world's queer-deprived towns. Hmm… Maybe it'll visit my old hometown in Alberta.