School Forbids "Gay Eskimo" Song
June 4, 2007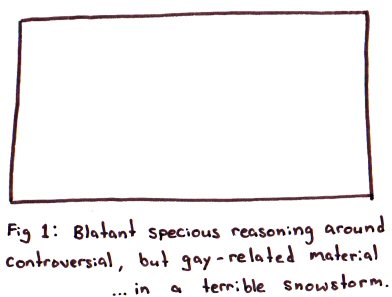 An Inuvialuit high school student in the Northwest Territories has been barred from singing a sexually suggestive song about a "gay Eskimo" at her school's fundraiser. The staff's rationale for the ban: The word "Eskimo" is culturally insensitive. Uh, yeah.
Vice-principal Lorne Guy, the only staff member to comment to the press, eventually admitted the following: "I would say that the combination of both the cultural sensitivity and the sexual preference [led to the decision]."
So, first, let me get this out: Anyone who finds the word "Eskimo" insensitive had better not be using the term "sexual preference." I mean, gee whiz.
Second, the song, though funny, is sexually suggestive. Gay-related or otherwise, it's OK to bar a secondary student from singing provocative material at a fundraiser. The anti-gay lobby loves to scare people into believing that people like me would be screaming homophobia over any sort of "gay censorship," but in reality the song isn't appropriate for school and there's no need to pretend there's something else offensive about the song just because the sexual content is gay.