Comedian Goes On Anti-Lesbian Tirade
June 13, 2007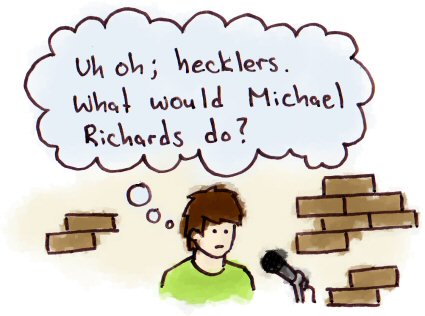 Dealing with hecklers isn't Guy Earle's specialty. When a lesbian couple started kissing during the Vancouver comedian's performance, he decided to draw audience attention to them, prompting drunken heckles. Reportedly, Earle's response wasn't exactly measured:
You're fat and ugly, no wonder you're lesbians, you can't get a man that's why you're dykes. You must be on the rag, you stupid dykes.
After receiving the classic retaliatory "glass of water, meet face", the comedian then took one of the woman's sunglasses of her head and snapped them in half.
Earle, who was booed by the audience, later admitted that he "lost his cool," but that "sexuality [had] nothing to do with it."
Well, that ought to confirm his status as a comedian, no?