Guess Who's Running For Mayor of Edmonton
June 22, 2007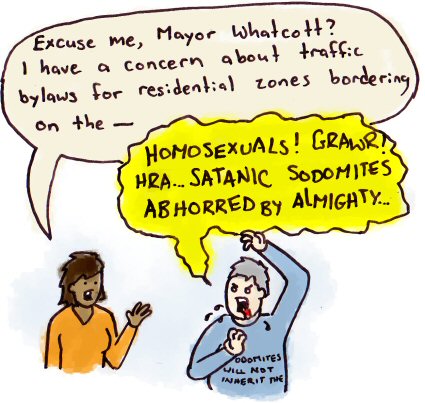 Bill Whatcott, the male nurse who has dedicated his life to hysterically opposing gay rights, is running for mayor of Edmonton.
So what's his top election issue? Timely road repairs? Discount transit fares for war veterans? Let's take a look at his official platform's opening paragraph:
As your mayor Bill Whatcott is committed to protecting Edmontonions from homofascism. Bill Whatcott loves children and he loves truth. He believes children have the God given right to have a mother and father and not have to be indoctrinated into embracing homosexuality by our public schools and media. […] Homosexuality is wrong and as your Mayor, Bill Whatcott is committed to denouncing homosexuality, warning young people about the consequences of indulging in the practice and calling on those trapped in the homosexual lifestyle to repentance, forgiveness and healing through the shed blood of Jesus Christ.
Yes, that ought to resonate with the mainstream voter. Oh, and his campaign photo (I swear, this is all real) is a full-torso shot, arms folded behind the back for maximum legibility of his T-Shirt: "Sodomites will not inherit the kingdom of Heaven."
Of course, though they may try, municipal leaders are about as powerful as multicoloured baby marshmallows when it comes to overriding civil rights. Given this, I think I'll give Whatcott my full endorsement. Seriously, who's in for a couple of years of hilarious "Edmonton's frothy mayor" stories?
(A tip o' the hat goes out to Pam Spaulding)