Happy Day After Canada Day
July 2, 2007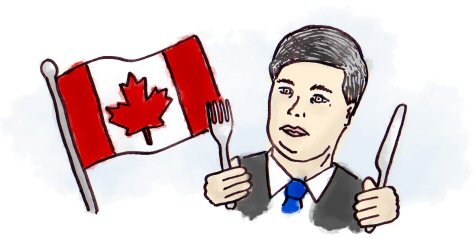 Today is a holiday here in Canada. So, in lieu of my usual post, I present my exclusive interview with Prime Minister Stephen Harper or a reasonable facsimile:
Stephen, thank you so much for agreeing to this interview.
I am Harper.
Now, you've been an outspoken opponent of same-sex marriage and made a promise to re-visit the issue on the first day of campaigning for the 2006 election. Why, after eight consecutive court rulings affirming same-sex marriage, a federal law, and years of parliamentary debate, did you feel this was necessary?
The first time I stared blankly into my wife's eyes and shook her hand in marriage, I knew traditions were traditional. Let me just say this: Canada's New Governmentâ"¢.
The Court Challenges Program was an inexpensive way for the government to ensure its citizens could challenge unconstitutional laws. This program was cut last autumn. In light of the Language Commissoner's findings that this cut violated the Officials Languages Act, will the Conservative government re-instate the program?
Scoff. I hardly think it's the government's job to protect its citizens' rights.
Is there anything else you'd like our readers to know?
Céline Dion is not a leader.
Thanks so much for your time, Stephen. Bonne journée!
Bonjour.