Mayor's Robotic Toilet Stall-Openers To Stop Gay Sex
July 6, 2007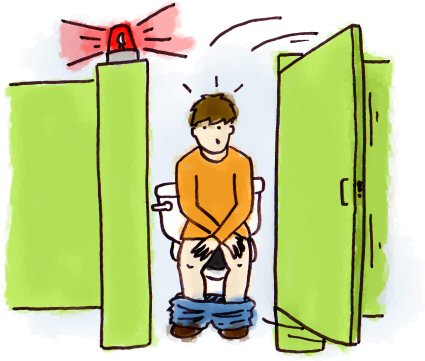 Slap reader John Kelly writes in with a story that just can't be made up.
Jim Naugle, The Mayor of Fort Lauderdale, is convinced that gay sex is rampant in the city's beachfront restrooms. To counteract the alleged problem, the mayor has recommended the city invest a quarter million dollars into "Robo-Johns," robotic toilets that swing the stall door open if a patron takes too long.
While crazy-expensive, mayor Naugle insisted that robotic toilets are the only way to protect children:
[Gay men] are engaging in sex. Anonymous sex. Illegal sex.

We're trying to provide a family environment where people can take their children who need to use the bathroom without having to worry about a couple of men in there engaged in a sex act.
Hmm… Wouldn't spring-loaded doors be more likely to expose potentially raunchy acts to unsuspecting restroom patrons? Oh well.
While the mayor praised the increased morality of robotic toilets, Sergeant Frank Sousa of the Fort Lauderdale Police Department painted a slightly different view of the situation: "There's no evidence, no reports or arrests made for any men having sex in any restrooms."
Interesting perspective. Still, I guess—to some—it's better to spend a quarter million on automated toilet door launchers than take the word of the police department.
The Robo-Johns, which also play music and clean themselves, have yet to be approved by council.