Man Pulls Son From School Over Gay Travel Agency
July 11, 2007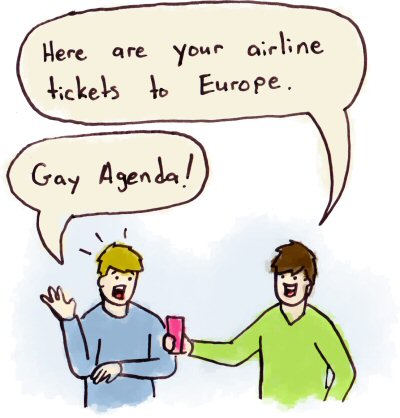 An Ontario man has pulled his son out of an Oshawa high school after learning the school's student trip to Europe was booked by a gay and lesbian travel agency.
Dwight Budgell said he became worried when he was asked to make a cheque out to Rainbow High Vacations: "I clicked on [the website]; it's the world's largest gay and lesbian travel company." Panicked, Budgell pulled his son from school entirely, fearing "the propaganda" of the trip and being "blackballed" by the school administration.
The school's superintendant, Lou Vavougios, was rightfully confused by the action:
The board used an educational tours division that books everything and travels with the students.

Other than the ticket, there's no other transaction with Rainbow High [Vacations]. It really doesn't make a difference where you get your ticket from. It's just a seat on a plane.
Despite Budgell's drastic and confusing behaviour, he insists that he harbours no ill will toward gay people:
What they want to do with their own personal lifestyle, I don't have a problem with it.
Oh, we believe you, Dwight… We believe you. (*cough* *bullcrap* *cough*)