Why Is It Always Religion Versus The Gays?
July 18, 2007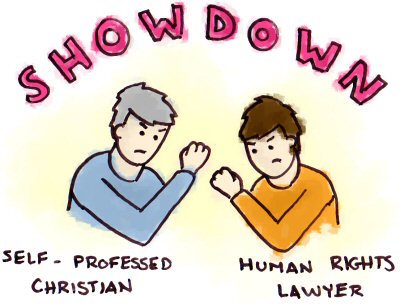 Looks like the ostensible "Religious Freedom" versus "Gay Rights" debate is still alive and kicking in the media.
An Alberta man who published an open letter directly comparing gays to "pedophiles, drug dealers and pimps," and who urged readers to "take whatever steps are necessary to reverse the wickedness [of the] homosexual machine" was served a human rights complaint by a Calgary human rights professor. The professor, Darren Lund, says that Rev. Stephen Boissoin's letter may have contributed to a physical gay bashing that occurred two days after the letter was published.
Although this happened five years ago, the case is now in front of the human rights commission, eliciting headlines such as: Pivotal gay rights case begins in Alberta and Prof hopes pastor's anti-gay letter will put limits on free speech in Alberta.
Now, considering that neither of the parties involved are actually gay, perhaps I could sneak a word in here…

This is not a gay rights case, let alone a "pivotal" one. No gay rights are being won or lost here and Canada's largest gay rights organisation, EGALE, is refusing to involve itself in the case. This isn't a religious freedom case, either. Despite a recent hysterical opposition to homosexuality by many churches, the views expressed in the letter are not rooted in any mainstream religion, which largely teach love and tolerance. Rather, this case is about a man who enjoys contention and wants to assert territory in hate speech's grey areas.
The part of the letter that I'm most concerned about is not the typical "gays are evil warlords who want to brainwash your children" rhetoric, but rather Boissoinmay's encouragement to take "whatever steps necessary" to stop gay people. That's a call to action—and one that's worryingly open in its interpretation. Is this sentence violating human rights by inciting hatred against an identifiable group? Well, we'll find out shortly, won't we?
Incidentally, unlike libel—which makes it a crime for someone to say their local politician is plaguing communities like a pedophile and that the public should take whatever measures necessary to stop him—a human rights violation can only result in small fines.
Correction: Tom, a reader with much better knowledge of the law than me, has thoughtfully noted that libel is a civil action, not a crime, and that my example is more likely to be prosecuted under section 319 of the Criminal Code. Also, the legal terminology for human rights penalties is "damage awards," and not "fines," which are reserved for criminal offenses. (A distinction that Tom notes is "sometimes lost on the losing person who cuts the cheque.") Thanks, Tom!