Anti-Gay Callers Harass Wrong Woman
August 8, 2007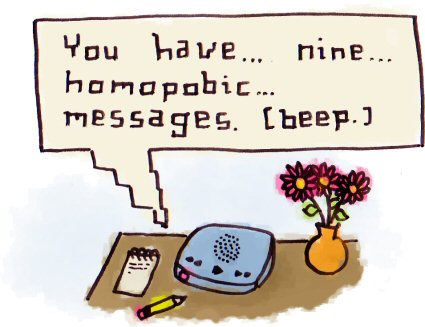 Sharon Laura Farrell of Nova Scotia was baffled by the abusive, homophobic telephone calls she received this week. That is, until she discovered that she had the same name as a Truro woman who organized a gay rights rally on Monday. The rally was held in protest of Mayor Bill Wills' comparison of gays to pedophiles after the town voted to not fly a gay pride flag at city hall.
Sharon Laura Farrell, who had no knowledge of the rally or the flag dispute, was shocked at what she heard:
It really doesn't matter who they were intended for. No one should ever have to deal with the phone calls I got today. I certainly didn't appreciate the very negative tone of those calls.

When I told [a particular caller] she had the wrong person, it didn't seem to matter. It was an exasperating phone call because I don't tolerate people yelling at me on the phone. I finally told her she had the wrong person and hung up.
Eventually, Ms. Farrell became so fed up with the abuse that she contacted Sharon Farrell, the rally organizer, and became involved in gay rights.
I was very impressed with [the organizer]. She is very sincere and she was aghast that anyone would go to such great lengths to get a phone number or to make phone calls like that. I was impressed by her stand. It got me involved.
Good for you, Sharon and Sharon!