Gay Refugee To Be Deported
August 10, 2007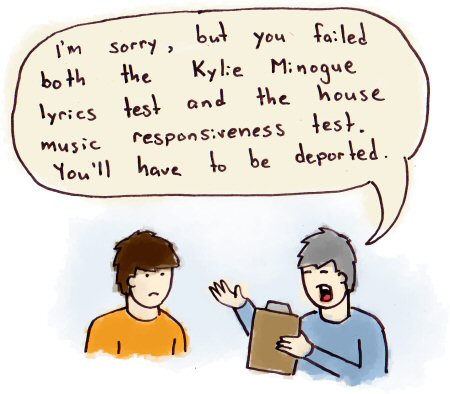 Alvaro Orozco, the 21-year-old refugee who was denied Canadian citizenship because he didn't look "gay enough" now faces immediate deportation. Alvaro originally fled Nicaragua, where homosexuality is illegal, and made his way up to Toronto, where he has been living for the past two-and-a-half years.
Calgarian adjudicator, Deborah Lamont, originally denied the refugee claim in February, saying that if Alvaro were really gay, he would have been sexually active. Though Alvaro was only a teenager when he made his refugee claim, all avenues for reversing Deborah's sex-based decision have been denied.
So let that be a lesson to all you future refugees: If you want to base your claim on being gay, the refugee board demands that you be as flaming and promiscuous as possible. Otherwise you're just one of those fakers.
Update: Slap reader Sheena writes in with some last-minute info: "If people are still interested in advocating for Alvaro, his website still says his supporters can write to Minister of Immigration Diane Finley and ask her to intervene in his deportation - it's his only hope. It's worth a shot!"
Definitely worth a shot. Head over there if you'd like to help out, kids!