Anti-Gay Vandal Defaces Wrong Home
September 3, 2007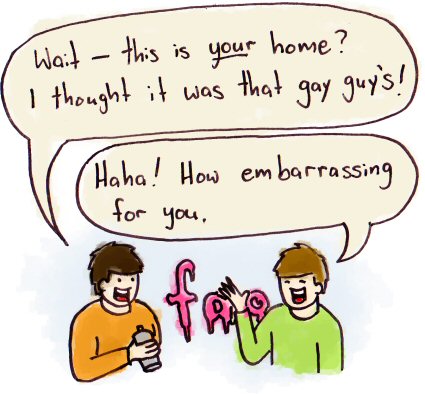 A St. John's family was shocked and disturbed Thursday morning to find their home and vehicle defaced with homophobic graffiti. The words "fag," "queer," and various other profanities were spray-painted across the family's property in large, black letters. The kicker: no one in the home identifies as gay.
Patricia Courage, the family's mother, was horrified by the cruelty:
It's very, very disheartening to think that Newfoundlanders would do such a horrible, horrible act of crime. [The vandals] are very low people to [do] such horrible things.
This is hardly the first time Eastern Canadians have been subjected to homophobia by mistake. Earlier last month, a Nova Scotia woman with the same name as gay rights rally organizer was shocked by a sudden wave of abusive, homophobic telephone calls.
So there you go: Being gay clearly isn't a prerequisite to being a victim of homophobia.