Happy Thanksgiving
October 8, 2007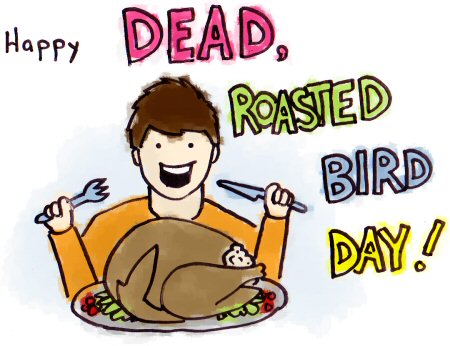 It's Thanksgiving in Canada today, so I'm taking the day off. In the meantime, though, here's some quick Canadian Thanksgiving trivia for those living elsewhere:
Most people know that Canadian Thanksgiving is celebrated today and Canadian Halloween is celebrated on American Thanksgiving, but few people know there are differences in Thanksgiving dinner customs. Americans, apparently, roast their turkey in the oven instead of serving it as raw, seasoned slices for dinner guests to pierce with a fourche à foin and cook over nutmeg-scented candles. Also, since the Canadian climate is not suitable for growing potatoes or carrots, mashed acorns and goat cheese are more common. After dinner, it's customary to tip the hostess by putting some loonies, toonies, or foonies into a toque in the middle of the dining table.
Sadly, I won't get to see my family at Thanksgiving this year, but I've still a lot to be thankful for. Have a great holiday, kids!