University Plastered With Homophobic Messages
December 5, 2007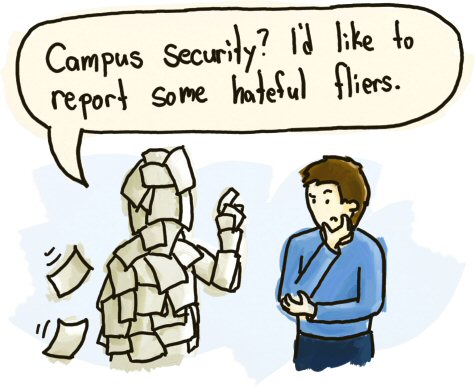 Campus police at the University of Windsor have issued a security alert after several homophobic and racist messages were found across campus. While the content of the messages is a mystery, it was disturbing enough for the Office of the President to issue an open letter to the university community:
There have been [incidents that] deeply concern us involving abusive language and intimidating behaviour towards gay students at the Faculty of Law. The University of Windsor is committed to fostering an inclusive campus […] however, considerable progress must be made before we are able to realize such an environment.
What, no attempt at sugar-coating the university's progress on their vision of an diverse and tolerant campus? Why, that could only mean there's a delightfully ironic twist somewhere here!
Yes, it turns out that one of the racist incidents mentioned in the letter involved members of a campus social justice community committed to "diversity and equity and the education of future generations of young people."
I'd say the university's vision needs work.