Santa's Potty Mouth Shuts Down Canada Post Program
December 17, 2007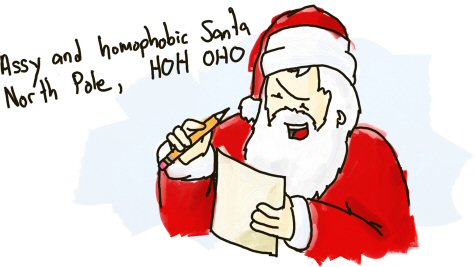 Canada Post has temporarily shut down their Write To Santa program—a volunteer-run promotion in which children get a personalized response to their wish list from Santa at the North Pole. The program, which has been in effect since 1982 (Heck, I remember writing to Santa as a kid), relies on thousands of Canada Post volunteers adding a hand-written message to a form response in any of the world's languages.
The unfortunate shutdown is an emergency response after some peculiar responses were sent on behalf of the jolly gift-giver. Here's what was sent to a two-year-old and ten-year-old child in Ottawa on Friday:
Your mom sucks dick and your dad is gay.
P.S. This letter is too long, you dumb shit.
Ho Ho Ho-ly crap! Sounds like Santa has officially snapped from the holiday stress—and he managed to pepper in some homophobia while being a total ass to Children. Class act, that Santa.
Canada Post is horrified. 10 cases of Santa's foul-mouthed responses have been reported and the company has advised parents not to open Santa's letters in front of children. Behind the scenes, an internal investigation is underway and each unsent letter is being opened, inspected, and re-sent. A volunteer tracking system is also being developed to prevent this sort of incident from happening next year.
Now, remember kids: The tracking program won't be ready for a while, so once this year's program is re-started, it won't be too late to get your own traumatizing reply from Santa! Send your Christmas wish-list to:
Santa Claus
The North Pole
Canada, H0H 0H0
Tip o' the hat to unrepentant old hippie.