Anti-Gay Activist Must Pay Fine
December 21, 2007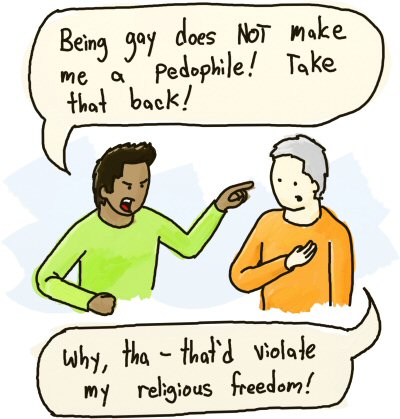 Bill Whatcott, a hysterical anti-gay activist, male nurse, and former mayoral candidate, must pay a $17,000 fine for violating human rights after an appeal of a 2005 ruling was denied.
Whatcott was fined two years ago for what the human rights tribunal called "a clear pattern of practice of disregard for protected rights." The complaint was launched against him in retaliation of a mass mailing that called gay people pedophiles and child molesters. He was found guilty to having incited hatred, but refused to pay the fine (and unwittingly raised money for some truly worthwhile causes).
As the mere thought of gay people being right makes all of Bill's eye capillaries burst, he has vowed to bring his case to the provincial appeals court.
Incidentally, Bill was in the news earlier this year for his unusual campaign to run for Mayor in Edmonton's October municipal election. His platform was based almost entirely on an anti-gay agenda, but included promises to alter zoning bylaws to prohibit abortion clinics, dismantle Edmonton's hate crime's unit, and end all funding for animal shelters and the arts.
He lost spectacularly.