Bishop Calls To Restrict Human Rights Commission
January 11, 2008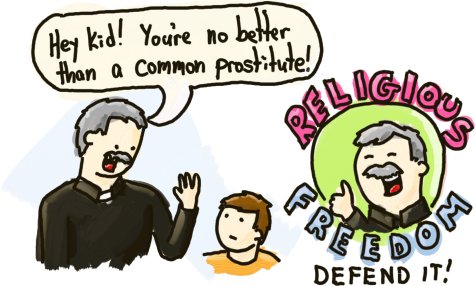 Fred Henry, the Calgarian bishop who refused holy communion to politicians that supported gay rights and announced that same-sex marriage "is the worst betrayal of children I've ever seen—even moreso than the Church sex scandals," is now calling to completely overhaul the Human Rights Commission.
The HRC, he says, is "being used as a sword" in an "ongoing pattern […] to penalize the expression of unpopular opinions."
Well, if by "unpopular opinions" he means directly comparing gays to adulterers and prostitutes, then I suppose he's half-right. Fred Henry, you see, had two complaints served against him in 2005 for doing precisely that; though, despite his uncaring words and an indignant attitude, the complaints were dropped.
So what demonstrable harm has the HRC caused that must be reversed? Henry offers no examples other than some pending complaints that have yet to be heard by the tribunal. Not terribly compelling evidence considering that anyone can file a complaint regardless of how likely it is to be upheld.