Gay Pride Sign Shot, Dragged, Beaten With Stick
January 14, 2008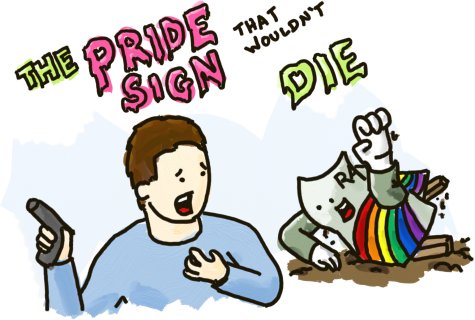 It looks like some rural Albertan vandals have met the Rasputin of gay signage.
Dan Francis' hand-painted "Rainbow Acres" sign was shot multiple times from a distance, shot some more from point-blank range, dragged across the road, and beaten with a hockey stick over two non-consecutive nights.
The unfortunately fated sign was a driveway marker for Dan and his fiancé's home just outside of Milo, Alberta.
While Mr. Francis expressed disappointment over the unusual and continuing vandalism of his property, he also defended the area as being tolerant—most of the time:
I've lived in the area for pretty much my entire life. […] I realized that not everybody approves of me, but I haven't felt unwelcome in any respect.

[The vandals are] expressing their anger in a very poor way. Personally, I've been praying for the person who did this. I'm hoping this person or persons hear from friends and family that this sort of behaviour isn't acceptable.
Politely put, given the circumstances.
Let's hope the vandals appreciate Dan's class and show some remorse over the vandalism. Otherwise, if films have taught me anything, they might be dealing with some vengeful, zombie signage in the near future.