Ford Motors Surprised To Be Led By Anti-Gay Lobby
March 14, 2008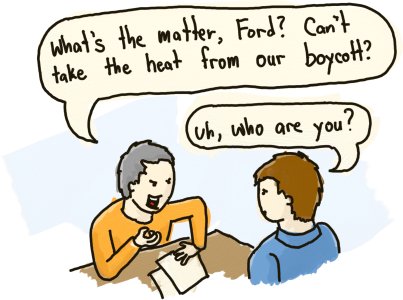 The Ford Motor Company has expressed surprise upon learning that an anti-gay lobby group has claimed responsibility for their decision to cut back advertising in gay publications.
The American Family Association boycotted Ford for the past two years because they were advertising to gay people. In a press release last week, the AFA said it would lift its boycott because "the conditions of the original agreement presented [to Ford] in fall 2005 have been met."
Interestingly, Ford spokesperson Jim Cain said that there was no such negotiation with the AFA:
I can tell you there was not a negotiated settlement to this boycott.

We've been in real financial difficulties. There's been reduced spending in lots of areas.
Jim added that Ford continues to advertise its Volvo line in gay publications and is still involved with gay rights organisations, including PFLAG and the Human Rights Campaign.
Ford has received a top rating by the HRC's annual Corporate Equality Index for four consecutive years due to their support and equal treatment of gay employees, customers, and investors.